Enjoy Quercy's countryside
Come enjoy Quercy's countryside by the Dordogne with complete peace of mind. Book a stay at Hotel La Terrasse and enjoy a stunning panoramic view from our rooms and suites. The charming shaded terrace also offers a cosy atmosphere.
Our library has an extensive collection of books on the cultural and historical heritage of the area. After a long day exploring the many local tourist sites, relax and unwind by our outdoor heated swimming pool before heading to our restaurant for a scrumptious meal.
La Terrasse
During the low season, our team will gladly welcome you to the castle's beautiful vaulted hall. A subdued atmosphere, idyllic setting and elegant tables laid out within the stone walls. During the summer days, meals are served on our shaded terrace overlooking the Dordogne valley.
"La Terrasse" can also host your seminars, meetings, business lunches, family gatherings, banquets, weddings and other events. We will gladly welcome you in our Lot castle for a relaxing stay at the heart of the countryside.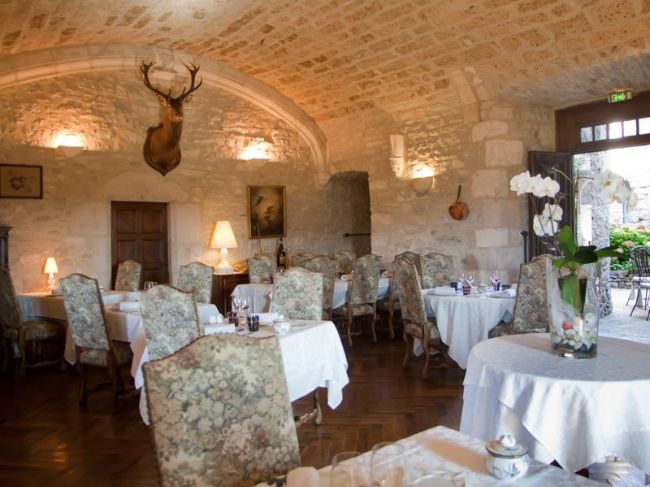 We leave no stone unturned at HOTEL DE LA TERRASSE, from interior design to bedding layout. Every room has been tastefully decorated for a pleasant night's sleep.
Our uniquely decorated rooms
Our uniquely decorated rooms where modern-day amenities and appliances and centuries-old architecture blend harmoniously together will contribute to a perfect stay. HOTEL DE LA TERRASSE is where the present-day meets the past.
For optimal comfort throughout your stay, our air-conditioned rooms and suites are equipped with a hairdryer, mini bar, shower room or bathroom, flat-screen TV, safe, free WiFi access, welcome products, etc.
Our superior suites for guaranteed relaxation and well-being
Take advantage of our superior suites for guaranteed relaxation and well-being. Each room has been tastefully decorated and equipped with a whirlpool bathtub. A romantic touch for added elegance.
The Eglantine suite will evoke complicity, because the Eglantine is synonymous with sincere love. There's something about peace and tranquillity with the Olivier suite. This duplex  stands out for its large fireplace and stone vault, which add authenticity and sophistication.
The Eglantine suite is a duplex located in the castle tower where the dominant salmon colour reminds us that happy days go by too quickly. In addition to an imposing fireplace and arrowslits on all four walls, this room combines peace, happiness and a splendid view.
Find warmth within the walls of our hotel
When the daylight fades and the cool night air settles in, you can rest assured that you will find warmth within the walls of our hotel or a pleasant breeze on hot summer evenings.
The rooms
Premium rooms from €85 to €95
Superior from €125 to €150
The suites
Junior Suite: €150 (2 adults, 2 children)
Superior Suites 2 to 3 pers
Tulipe: €160 (3 pers)
Olivier: €185 (3 pers)
Eglantine: €230 (2 adults, 2 children)
Cot available free of charge upon request
Pets: extra charge of €10/day
Check out our gourmande menu
Our chef, Jonathan Martin's menu
Foie gras with four spices, apple and mango chutney and cider juice €20
Zucchini with its crispy flower, focaccia bread crostini, candied lemon zucchini €16
Pink trout "Blagour", traditional and contemporary ceviche €18
Farm beef Parfait "Onsen" style, small vegetables from the garden in yuzu sabayon €16
Veal chuck cooked at low temperature for 48 hours, roasted eggplant caviar, potato/gorgonzola siphon €24
Cod, creamy cauliflower with squid ink and vegetables €22
Fillet of beef in a hazelnut crust with salt and pepper, spaetzle with black curry, orange butter and parsnip emulsion €28 
Turbot, lacquered with bone juice, roasted seasonal asparagus, siphon of Dutch tarragon sauce and sea salad pickles €26
The gourmet choice of our pastry chef Marina Chanet
Marina's Dessert of the day: 8 €
Iced walnut soufflé with walnut liqueur 'Louis Roque': 10 €
Fresh meringue raspberry blackcurrant: 12 €
The bold Maîs en délice: 12 €
Françoise, Clément and their team wish you a pleasant moment at our restaurant in the lot at the bank of the Dordogne. Book your table!
Make your reservation right away.